ONLINE BIBLE COURSES & PERSONAL DEVELOPMENT TRAINING!
The Alliance of Eagles Institute empowers individuals in the body of Christ to make a difference in their communities and around the world through intensive biblical studies and practical ministry training.
CERTIFICATION OF BIBLICAL STUDIES
This program offers private credential and general courses open to the public. It's a certificate program ideal for anyone wanting to expand their knowledge of the Bible and effectiveness in ministry. All Leaders and Laypersons are welcome to attend!
SEPT 2022 - JUN 2023 Academic Year Courses
General Doctrines of the Bible

The Life of David From Shepherd to King

Myths and Misconceptions in Ministry

Understanding the Torah

The Art of Preaching – Advanced Studies

The Sons of Jacob

Women in Ministry

Exploring the Protestant Reformation

Serving With the Heart of Christ

Blacks in the Bible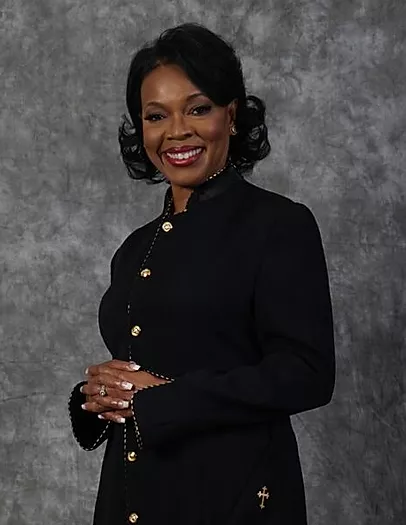 APOSTLE KIM A. DAVIS
PRESIDING PRELATE


Apostle Kim A. Davis, a native of Detroit, Michigan, has indeed been anointed to preach good tidings unto the meek. Predestined, called and appointed for such a time as this, she flows under the fivefold ministry gifts as apostle, prophetess, evangelist, pastor and teacher. 
The fascinating journey of Apostle Davis began in the city of Detroit, Michigan where she was raised in a Christian home and nurtured in the strong environment of the Prayer Tabernacle Church of that city. Always active in church, she was quickly recognized for her unique gifts and talents. Many ministries have been blessed by her preaching, teaching and seminars. As a faithful follower of others, it did not take long for her leadership to be recognized by others.
Apostle Kim founded the Daughters of Judah Ministries in 1994, as she took heed to the voice of God. Through this evangelistic ministry calling, she has literally spoken life into the lives of women all over the world. As a psalmist, her melodic voice has an anointing which destroys yokes and sets the captives free as she ministers in song.
In January 1999, Apostle Kim was awarded a degree of Honorary Doctor of Divinity by Jacksonville Theological Seminary. She is a management retiree of Ameritech (formerly Michigan Bell), where she served for 18 years, and has been a licensed cosmetologist since 1977. She was employed for 5 years by the Full Gospel Baptist Church Fellowship under the leadership of Bishop Paul S. Morton, Sr. as Executive Assistant to the Office of Field Operations and Administrative Assistant to General Overseer Debra B. Morton, Full Gospel Daughters of the Promise for 10 years. 
In 2011, Apostle Kim launched Kim A. Davis Ministries; which is a kingdom minded movement who is committed to being R.E.A.L: Refreshing Leadership, Empowering God's People, Advancing the Kingdom, Laying Foundations and Leaving a Legacy.
In 2013, after much prayer, Apostle Kim acknowledged the apostolic call on her life and launched The Alliance of Eagles Fellowship. The purpose of the fellowship is to provide a place where senior leaders can come together seeking a spiritual covering, partnership, mentorship, resources for optimal Kingdom Living or simply true fellowship with no hidden agenda. 
Apostle Kim is the Senior Pastor of Ebenezer Full Gospel Baptist Church in Downingtown, PA and The River of Life Church in Wilmington, DE; "Two Churches, Two States, One Family."
Apostle Davis brings a refreshing dynamic approach to ministry that is perfectly suited for ministry in the 21st century. She provides a balanced approach that combines spirituality with contemporary energy that is just what the world is looking for today.
She is the mother of six children and seven grandchildren, all of whom are active in the ministry. We pray that you would be blessed by the ministry gift of this anointed vessel of God,
Apostle Kim A. Davis.